Datacat · Data literacy for youth
---
This project has been developed during the Spring Semester 2015 as part of the Service Systems Design Master at Aalborg University Copenhagen.
Group members: Lara Casciola, María Crucera,
Esben Grøndal, Andreas Jonsson.
·The context: Smart Cities & Youth·
This project is conceptualized within the context of Copenhagen as a smart city. The notion of smart cities often involves the deployment of advanced analytics and large amounts of data for the optimization of the city services. In addition, less tangible aspects of city functions such as education and citizen involvement can also be optimized.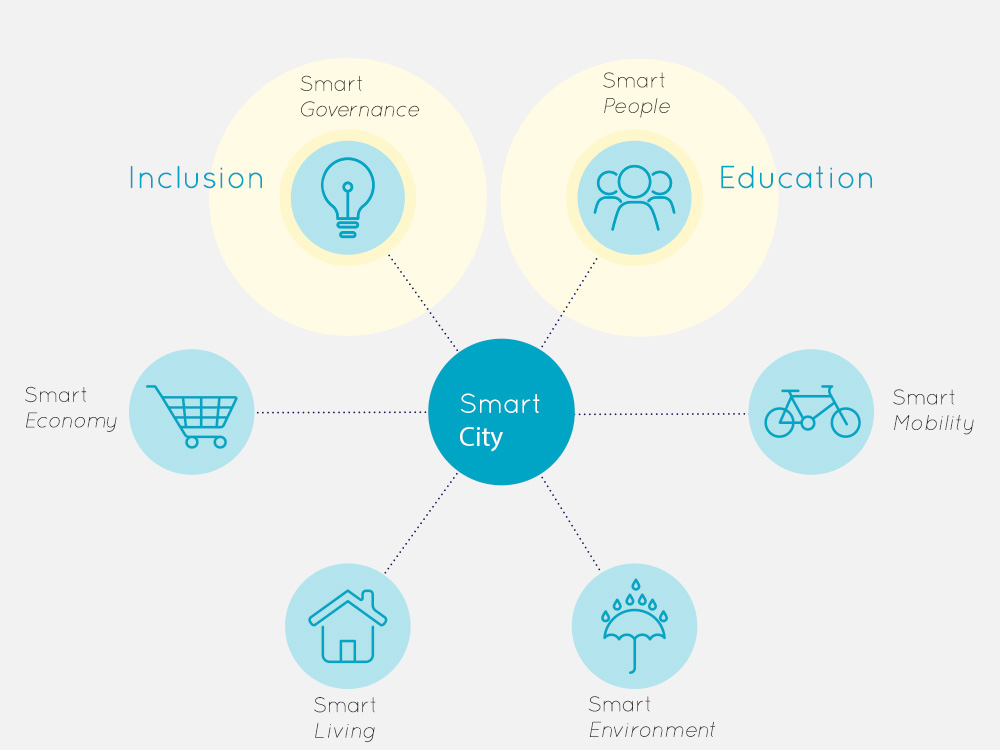 This data-driven society calls for better data-educated citizens, who can actively get involved in the development of the city they live in, and create an environment with improved quality of life.
Youth are not naturally aware of the data they generate and how it is used, and are often overlooked and not included in decision-making in the development of the cities. With them being future decision makers and the ones who will live in and develop the city, it is essential that they have the knowledge and skills to understand and contribute to a data-driven society, which in turn can be considered an investment in the future.
This project aims to deliver on this smart city vision and explores how to improve data literacy among youth to participate in the development of Copenhagen.
·The concept: Datacat·
Datacat is an educational service aimed at youth. Through Datacat, youth will become aware of the digital data they generate, and how it can be used to support and inform urban development projects in the municipality. This way the youth will improve their data literacy and become active citizens taking part in developing Copenhagen as a smart city.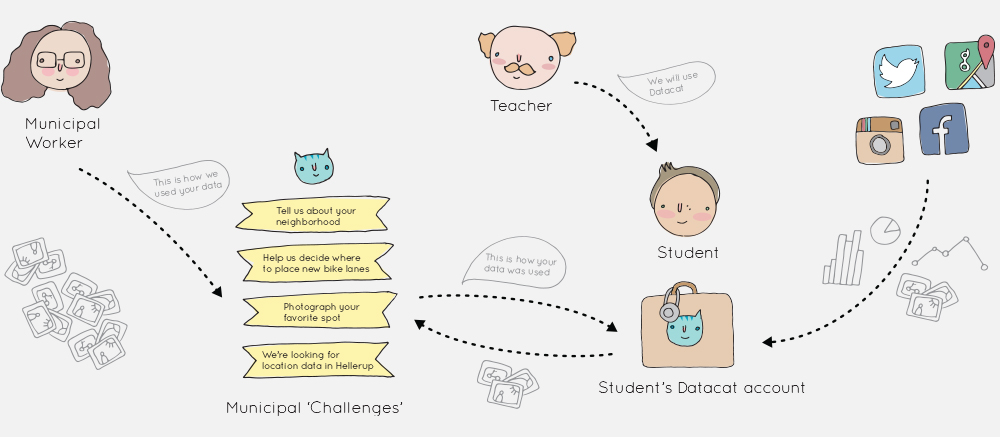 Datacat is developed by the municipality, and it is initially facilitated by high-school teachers. It begins with a course on data literacy introduced in social science classes at high-school. After downloading a mobile application, youth can link their online activities to the service to get an overview of the digital data they produce, and share portions of this data in response to municipal urban development projects named Challenges. These Challenges are created by municipal workers wishing to include citizen input in the early stages of project planning. Data contribution is entirely voluntary. Youth then gain access to a Challenge Wall within the app, where they can view updates on project progress and leave comments. These updates provide transparency, and it is required that all Challenges give regular feedback on project progress.
·Service details·
The following visualization methods expand on Datacat's details. For a more detailed description, take a look at our product report here.
Scenarios. We used scenarios to highlight the difference between two possible use cases of the service. They are based on two previously defined personas with different motivations. (Click on the image to see both use cases).
Actor map. This visualization depicts the main actors in the service offering and their mutual relations with the service and each other. The arrows show the value that is transferred between actors, and Datacat.
(Click on the image to enlarge)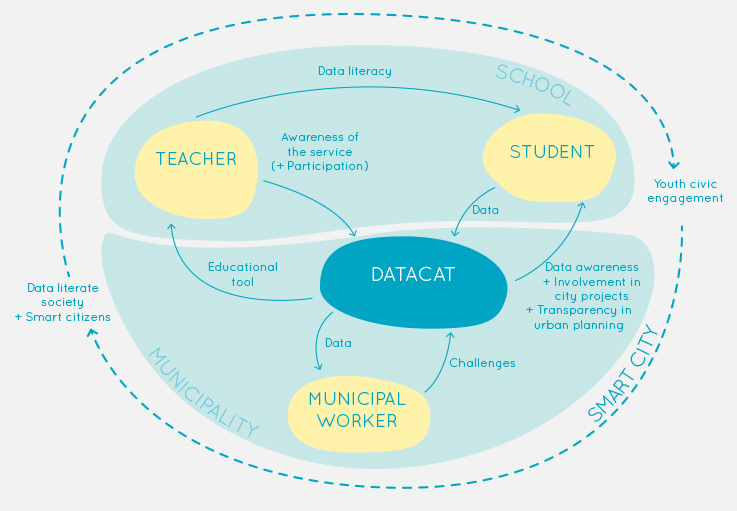 Blueprint. The following service blueprint explains the service concept incorporating the perspectives of the differect actors (students, teachers, municipality) and the flow of interaction between them. The process of creating the blueprint worked as a tool to explore the user experience and refine aspects of the service. (Click on the image to enlarge)

App Design. We considered the app flow from the student's perspective, and created the following mock-ups as an early visualization of how the service could be presented. (Click on the image to see all the screens).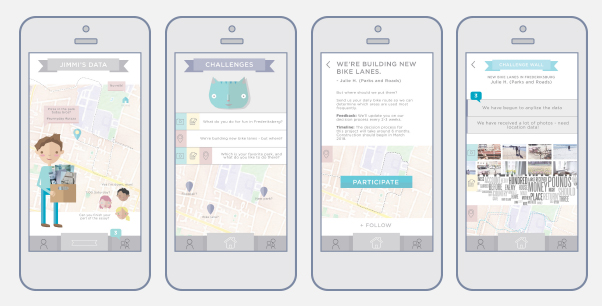 ·Design process & Methodology·
We approached this project with a co-design mindset. We wanted to build close relationships with the stakeholders, and involve them in various ways throughout the entire process.
We recruited a group of four enthusiastic youths -between 17 and 19 years old- who became part of the design team and participated in several occasions through the different project phases. According to the requierements of each phase, we organized several workshops and meetings with them, which we nicknamed Youth Cafés. We also engaged with a class of students from a high school north of Copenhagen, Ordrup High School, in two different occasions.
Below there is a brief explanation of each session. For a more detailed description of the process, take a look at our process report here.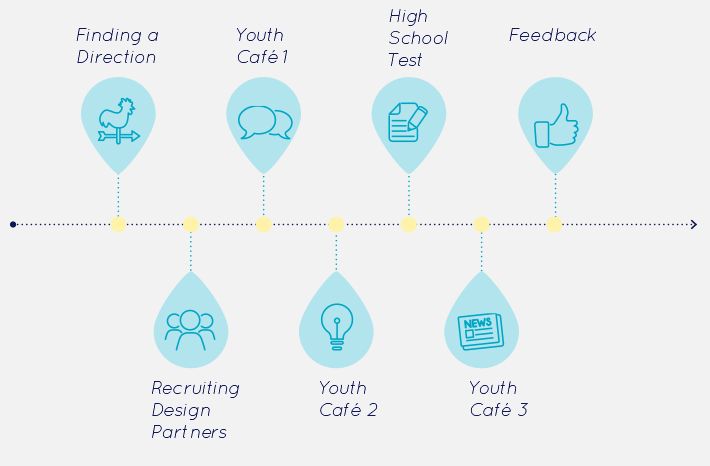 ·Finding a direction·
As a first step, we conducted a series of initial on-the-street interviews to gather the citizens' perspective about Copenhagen as a smart city. We also reached out to a high school north of Copenhagen. This preliminary exploration helped us set up a foundation for the project.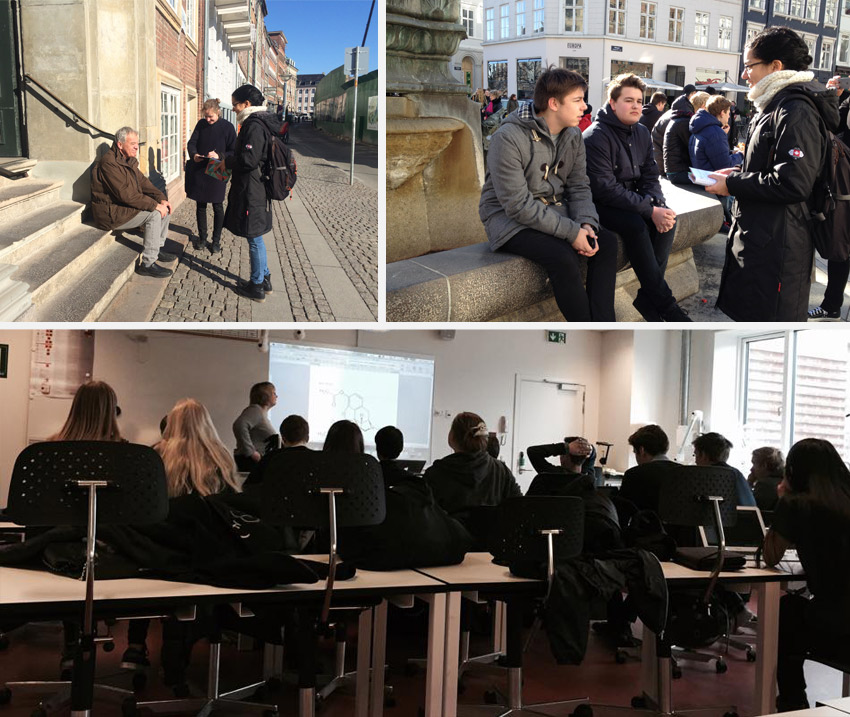 ·Youth Café 1·
The Youth Café 1  was the first meeting with our previously recruited youth team. It was an informal discussion on youth, data, and the smart city, in which we used a map as a facilitation tool. This session helped us to understand the perspective of the youth themselves on these topics, and it also worked as a getting-to-know-each-other tool.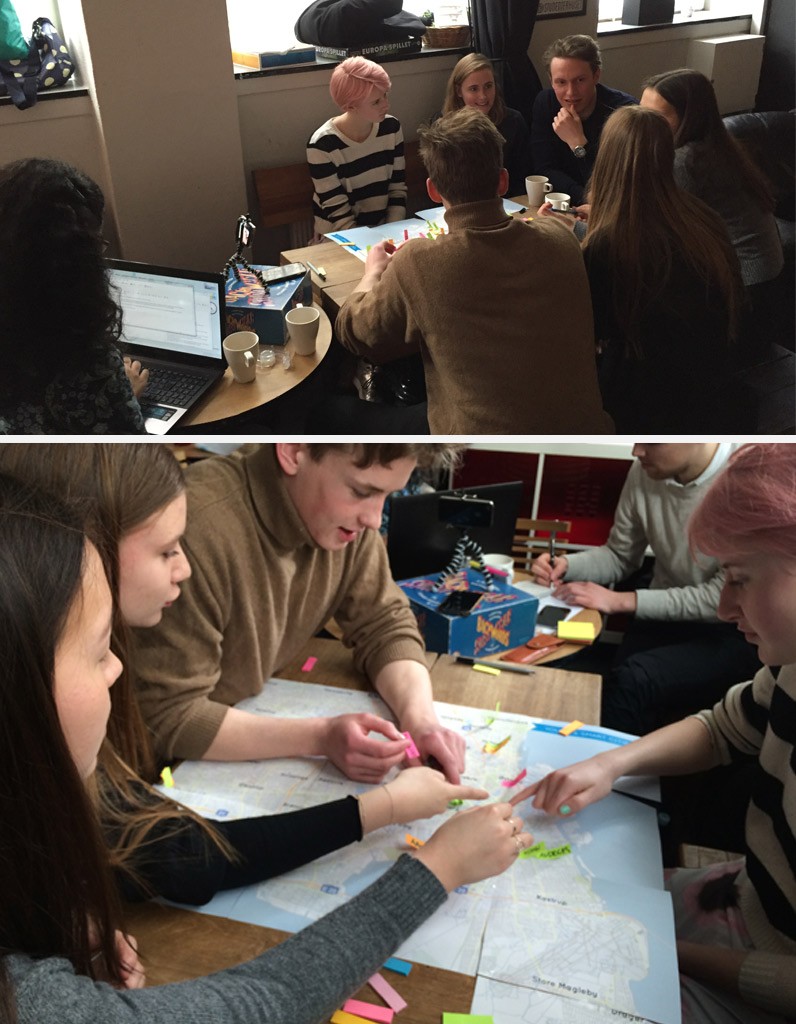 ·Youth Café 2·
The second meeting was all about co-creating ideas. We wanted to involve the youth in coming up with service concept ideas, and generate a large quantity of ideas as a foundation to build on. We developed an association game to facilitate a workshop, in which we all participated.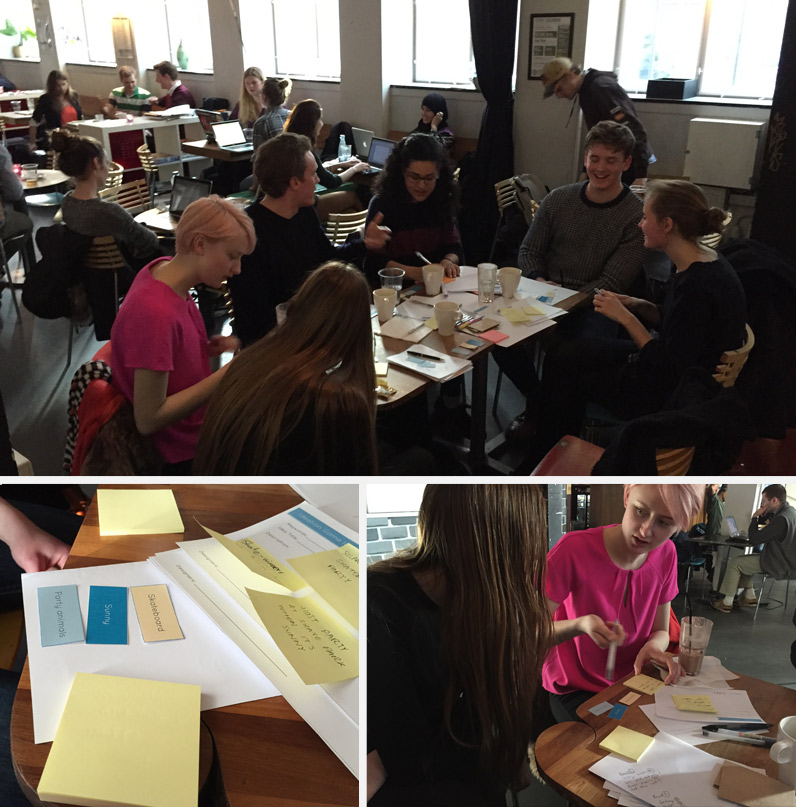 ·High School Test·
In the final stages of our project, we had a chance to simulate an approximation of our service concept at Ordrup High School with a class of 15-year-old students. We devised a data literacy course prototype, which consisted of a short lecture (simulating the teacher introducing the service) and a small-scale, non digital prototype.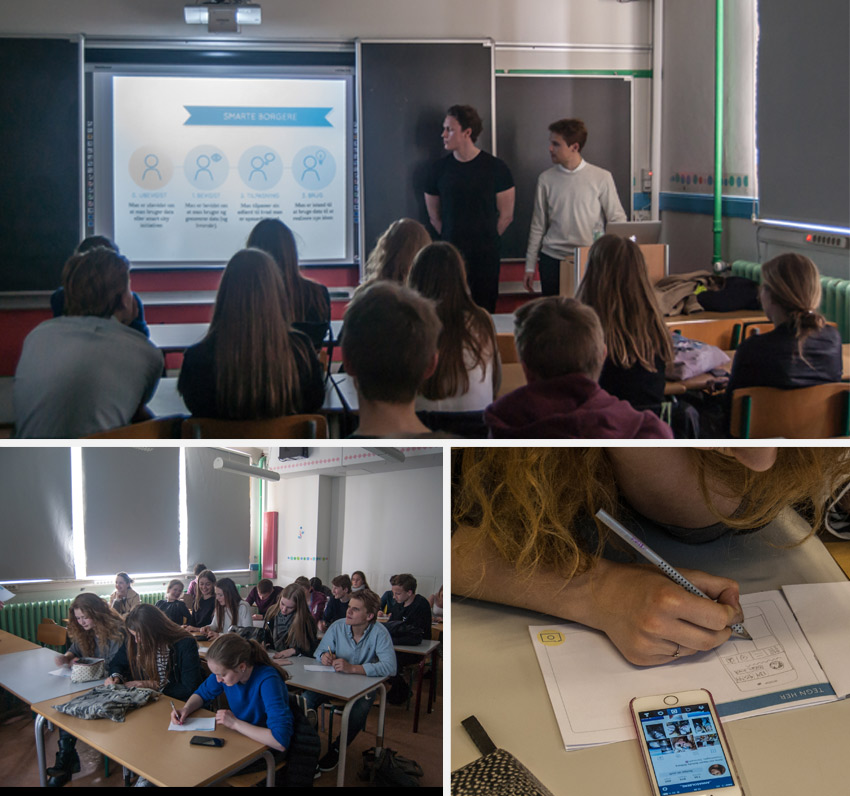 ·Youth Café 3·
In this last session with our youth design partners, we wanted them to assess the final product and its implications, as well as the process and our facilitation. During this workshop, we went through a tomorrow headlines exercise and a service walk-through.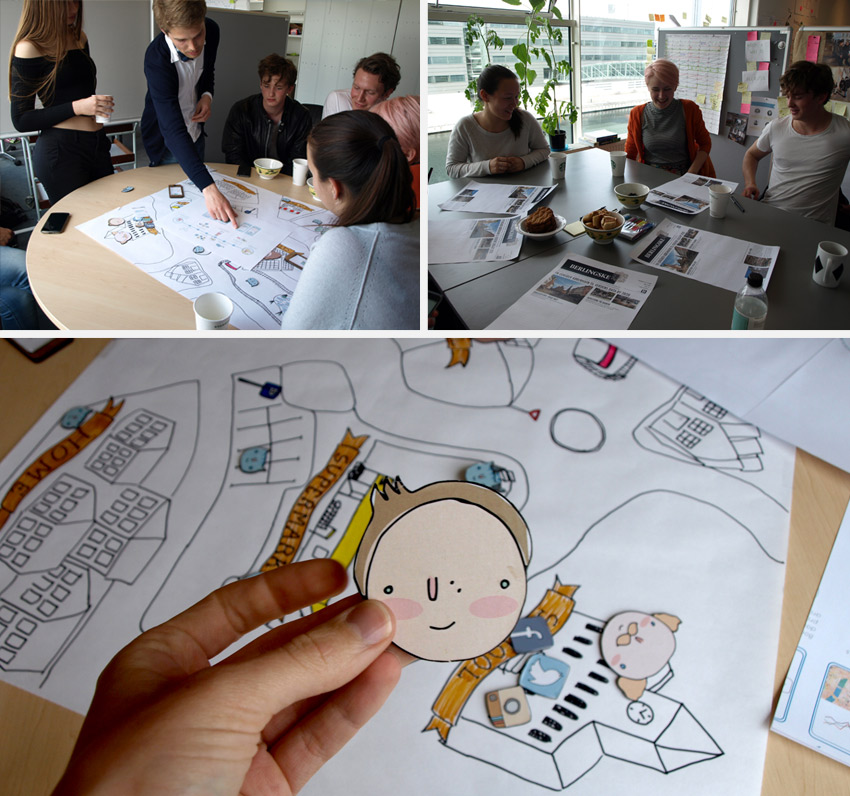 ·Feedback·
As a final step, we wanted to get some feedback from the other stakeholders involved in the service. We reached out to one of the teachers of the high-school and a couple of employees of the municipality of Copenhagen, and briefly presented our concept. We got very positive feedback from both sides, and comments and suggestions to be taken as future steps.
Would you like to know more?
For a complete description of the project, the design process and more detailed methods and tools, take a look at our process report here.